Click Here to Print Our Pet Boarding Agreement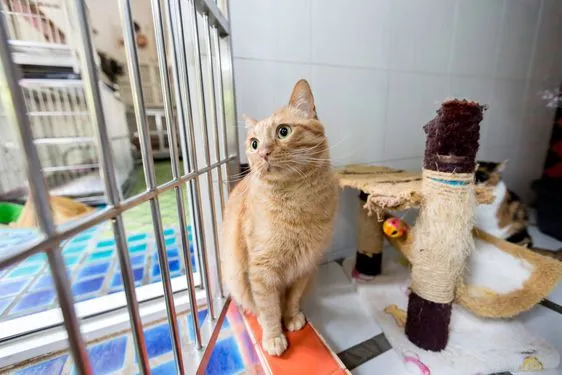 Bring your pets to stay at Baseline Animal Hospital's pet boardingwhile you are away . Whether your pets need care for the weekend, two or three-week vacation, or several months during a move, we provide the space, care, and attention pets need. Our facility is a home away from home for your pet. We have large indoor runs and a large outdoor play yard for dogs, not just little cages. Cats enjoy the privacy of a separate cat room with a view.
Private tours are available upon request.

Baseline Animal Hospital staffs qualified professionals to care for your pet at very reasonable prices. Our staff includes a manager, staff veterinarian, and animal care specialists. Our trusted boarding assistants love nurturing your pet with lavish attention and professional care while monitoring the status of their health and overall well-being.
Your cat will enjoy a spacious cat cage with supervised playtime with a big window to look outside, and our boarding facility provides your dog with a spacious kennel, three (or more) daily backyard playtimes, food, water and a cot or pillows at no extra charge! If your dogs or cats prefer to stay with their housemate, we can accommodate that in most cases as well (same species only).

BOARDING AMENITIES
Clean Kennels
Raised Cots, Pillows & Blankets
Blue Buffalo Quality Dry Food (or bring your own food for fussy eaters)
Spacious Dog Kennel Runs - Sizes: Premium 8×5, Large 5×5, Medium 3×5
Smaller Dog Kennel Sizes: Medium 4x3, Small 3x2
Cat Room Habitats 4×2
Individual Playtime
3 or More Outings Per Day in our beautiful enclosed & covered 50 foot Play Yard
Calming Music for your pets pleasure
Medications can be administered at an additional charge
Grooming Services Available at an additional charge
BOARDING RULES AND REGULATIONS

For boarding prices, please contact our office at 909-987-4788 option 2.
All dogs:
Must be current on DHPP, Bordetella & Rabies
Bordetella is required every 6 months
Capstar flea deterrent treatment (At pet owner's cost)
All cats:
Must be current on FVRCP& Rabies
All vaccine records from other hospitals must be in the name of the correct pet name.
When dropping your pet off, you will need to supply a pre-completed Boarding Agreement that you have printed from our forms page and filled out, or fill out a new form in the office and sign your estimate. Full payment is expected at drop off in most cases.
Our boarding services are open six days a week from 8:00 am - 5:00 pm for pick-up & drop-offs (we are closed Sundays). Please call for our daily rates at 909-987-4788 option 2.