At Baseline Animal Hospital in Alta Loma, we offer pet grooming services for dogs and cats. Grooming not only helps to keep your pet looking and smelling fresh and clean, but it also has several health benefits that come with regular sessions. Rest assured that your pet is safe and in the very best hands when you leave them with us for a grooming appointment.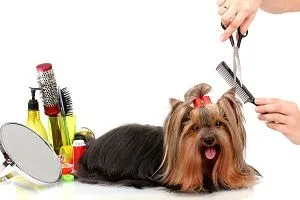 We Do Everything in a Pet Grooming Session
We understand that you may have time to give your pet a bath but not enough time for a full brush-out or nail trimming. When you drop your pet off for a grooming session at our veterinarian clinic, we do it all. We start by brushing your pet's coat, followed by a bath with specialty shampoos. After gently blow-drying your pet, we proceed with a trim, and we even offer breed-specific show trimming. During the grooming session, your pet's ears and skin will be checked for signs of infection, and nail trimming is also included. For dogs, anal gland expression is performed as well.
We Have the Tools & Expertise
At Baseline Animal Hospital, we have all the professional grooming tools needed to care for your pet properly during the session. This includes different types of breed-specific brushes, clippers, scissors, and other tools. Our grooming tables are the perfect height to ensure a comfortable experience for your pet and provide them with the perfect haircut. We use gentle shampoos specifically designed for pets with skin allergies.
We Handle the Jobs You Don't Want To
Dealing with a pet that has been sprayed by a skunk or expressing a dog's anal glands are not enjoyable tasks. However, they are necessary, and we can take care of them for you at Baseline Animal Hospital. If your pet gets covered in mud, washing them off at home can create a mess. By letting us handle these tasks, you can simply pick up your pet later when they look and smell much better.
Additional Benefits of Pet Grooming
Keeps dirt away to prevent skin irritation
Brushing distributes natural oils and gets rid of dead skin
Removes matted fur, which can lead to painful pulling of the skin
Your groomer can detect lumps, bumps, or skin irritations
Removing dead hair allows new growth for a healthy coat
Is There a Veterinarian Near Me That Provides Grooming?
Yes! Our caring team at Baseline Animal Hospital in Alta Loma is ready to assist you. Give us a call to schedule your pet's next grooming appointment.